Table of Contents
Responding to Sample Reqs, Document Reqs, Access Requests, and Producer Q&A
What is a Customer Request?
On Knowde, we enable you to interact directly with your customers. On your storefront or white label site, customers can submit a Sample Request, a Document Request, an Access Request, a Producer Question, and a Request for Quote (RFQ).
Sample Requests are direct requests from your customers to receive a sample of a product. Document Requests occur when your product is missing publicly available documents or has documents with viewing restrictions set up. Access requests occur when customers request access to information on your storefront that has viewing restrictions set up.
Producer questions are one way that customers can ask questions to your team. These questions are not publicly available and are shown only to the customer who asked and your team.
RFQs are direct requests for quotes on products available on your Knowde storefront or white label site. These are the highest scored leads in your Leads Page. Learn about responding to your other leads here.
Have a question about Customer Orders? Contact our Customer Success team here to learn about eCommerce on Knowde and how you can start making sales.
Responding to Customer Requests
Once you've logged in to your Knowde account, navigate to the upper right hand corner and click on your profile. From the drop-down menu, select Customer Requests.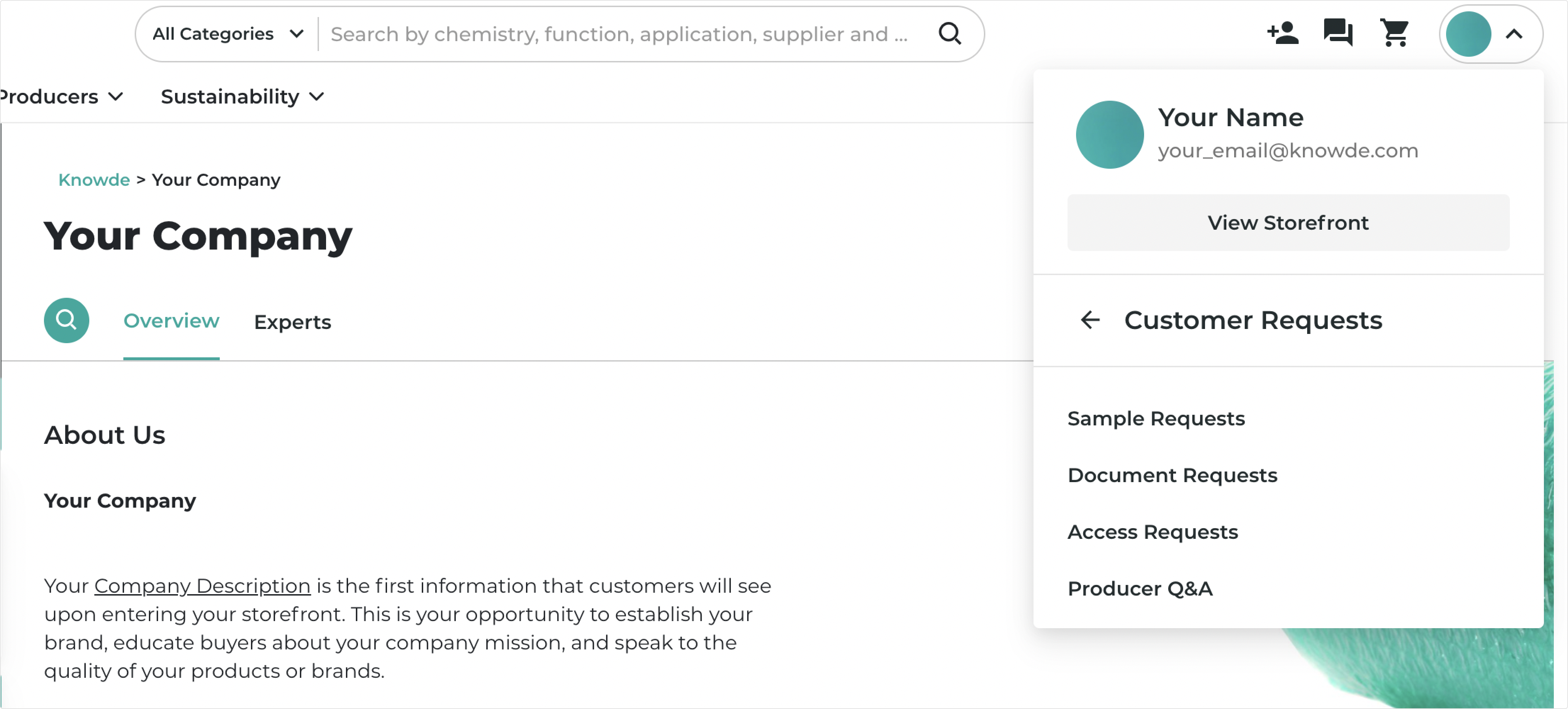 Within the Customer Request menu, you can check out Document Requests from customers looking for Safety Data Sheets (SDS) and Technical Data Sheets (TDS). You'll also see Sample Requests from customers looking to test out your products before purchase. Finally, you can check out Access Requests from customers looking for gated-access information, and you can respond to your Producer Q&A from customers.
Sample and Document Requests
In the Sample and Document Request pages, customer information is displayed in a grid. From this grid, you can view an overview of the requesting customer and the details of their request. You can click on a row to view additional information and gain a more complete customer request profile.
From this detail page, you can change the status of the request and notify your customer you've began to work to fulfill it. You'll also see more information about who the request is placed by (full name, company, title), contact information (phone number and email), as well as ship-to information for samples.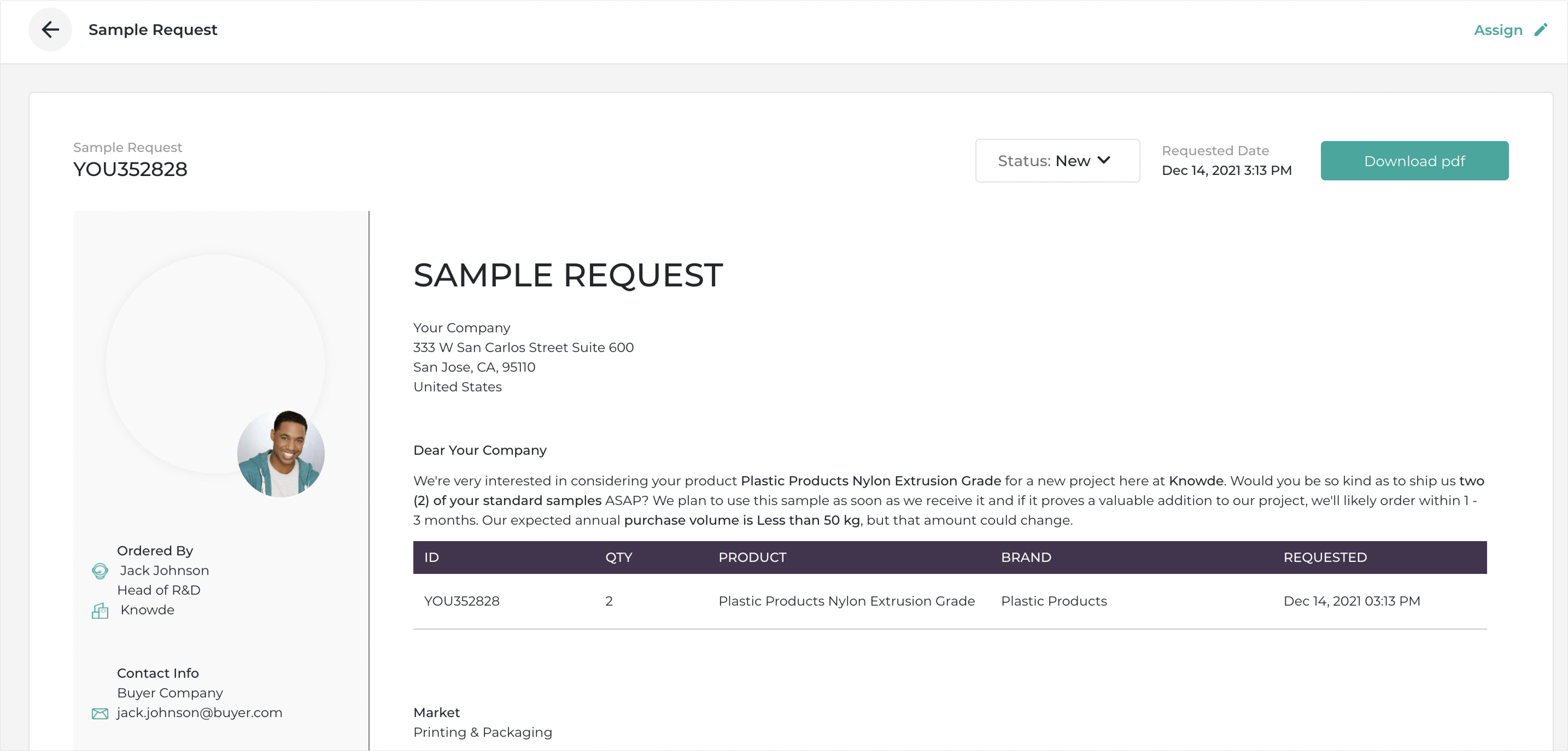 Above the grid pages are key performance statistics for your team. They indicate how quickly your team is fulfilling and responding to requests. Sellers should act with urgency to respond to any type of request received, our top sellers respond with 12-24 hours of request notification. Fast response times ensures a good customer experience and a stronger likelihood of return!

Want to customize the information you see here? Learn how to here.
Access Requests and Producer Q&A
From your Account Manager or Profile in the upper right hand corner, click on Customer Requests and navigate to Access Requests.
The Access Requests page displays customer requests to existing collateral on your storefront or white label site. For example, if you have Document A uploaded for a Product A, you can secure this document by requiring manual access approval. This helps ensure your competitors cannot see proprietary information about your products or documents.
From this page, either Approve or Deny customer requests to specific documents.
RFQs
The RFQ page shares the same familiar structure as your Document and Sample request pages, but is found under the Selling tab in your Account Manager.
Stay up to date!
To provide a great customer experience and build stronger relationships, we recommend acknowledging customer requests within 1 business day.
You can acknowledge customer requests by updating the request status to notify the customer their request is in progress and also send the customer a message using Knowde Messenger.