On Knowde, Suppliers can specify which methods of Shipment they support for their Products. Once you receive a Quote from a Supplier, you will be able to view the Shipping details and specifications on the Quote.
Curious about Quotes on Knowde?
Understanding Incoterms
Incoterms are a series of 11 internationally recognized terms which describe the rules and responsibilities that Sellers and Buyers follow during trade.
Some of the most common Incoterms that you may see on your Quotes are CPT, DAP, FCA, and EXW.
Carriage Paid To (CPT) is an agreement in which the supplier is responsible for arranging carriage to the outlined destination. The seller selects and pre-pays the carrier. Freight costs are frequently added by the supplier to the final invoice
Delivered at Place (DAP) is an agreement where the supplier is responsible for arranging carriage and any border crossing and customs fees for export shipments. The supplier will pre-pay these and may add them to the final invoice, this depends on your specific arrangement with the supplier.
Free Carrier(FCA) is an agreement where the supplier is responsible for transferring goods to a destination specified by the buyer (typically your carrier). The buyer is responsible for selecting and paying the carrier.
Ex Works(EXW), is an agreement where the supplier is expected to have the goods ready for collection at the agreed location (typically the supplier facility). The buyer is responsible for collecting the goods from the facility, including the arrangement of transport.

For both FCA and EXW, customers have the choice of arranging shipments with their preferred freight carrier. Alternatively, Knowde offers KnowdeShip in the domestic USA, where we can arrange shipping on your behalf and add the freight cost to your invoice.
Using KnowdeShip
During your Checkout process, you will be asked to select a Shipping Service Provider if the Quote you are ordering against specifies buyer-arranged Shipping.
You can select "I'll use KnowdeShip" while you checkout, and we will generate a Shipping Quote for you on the spot!
If a Shipping Quote cannot be generated, we will contact you right after you place the Order and provide one. This sometimes can occur due to address entry issues.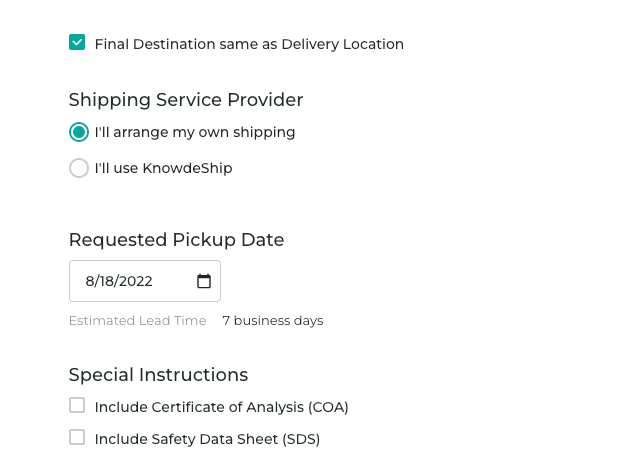 Read more about all Incoterms here: International Chamber of Commerce (ICC)
Questions?
Submit a Request here, or send us an instant message/email here!