Table of Contents
How to Assign Roles when Inviting New Users
User Roles Overview
Company Member: this is a default Role that users receive when they join your storefront. This user cannot view leads, customer information, or speak to customers.
Representative: this Role can view and respond to customer requests and leads as well as view the insights dashboard. They cannot send messages to customers via Knowde Messenger.
Experts: this Role can send messages to customers but cannot access any customer or lead information. Experts are publicly displayed on your Storefront.
Contributors: this Role cannot access customer requests or leads, but can manage and edit information on your Storefront via Storefront Editor.
Admin: this Role is the most powerful Role on your Storefront. Admins can view all incoming and outgoing information, whether that's your customer requests or your leads, and can respond to and manage them as well. Only Admins can assign new Roles to users in your Storefront or remove permissions.
Assigning Roles on Invite
Inside your Account Manager, navigate to Company --> Users to land on the Users page. Here, you can manage the Roles assigned to each member of your Storefront and invite new members.
Knowde Tip: you must be a Storefront Admin to change other members' Roles.
In order to assign a new company member a Role while inviting them, follow the below steps:
Click "Invite" on the card of the Role you wish to invite. For example, if you want to invite a new company member and make them an Expert, click "Invite" on the Experts card at the top of your screen.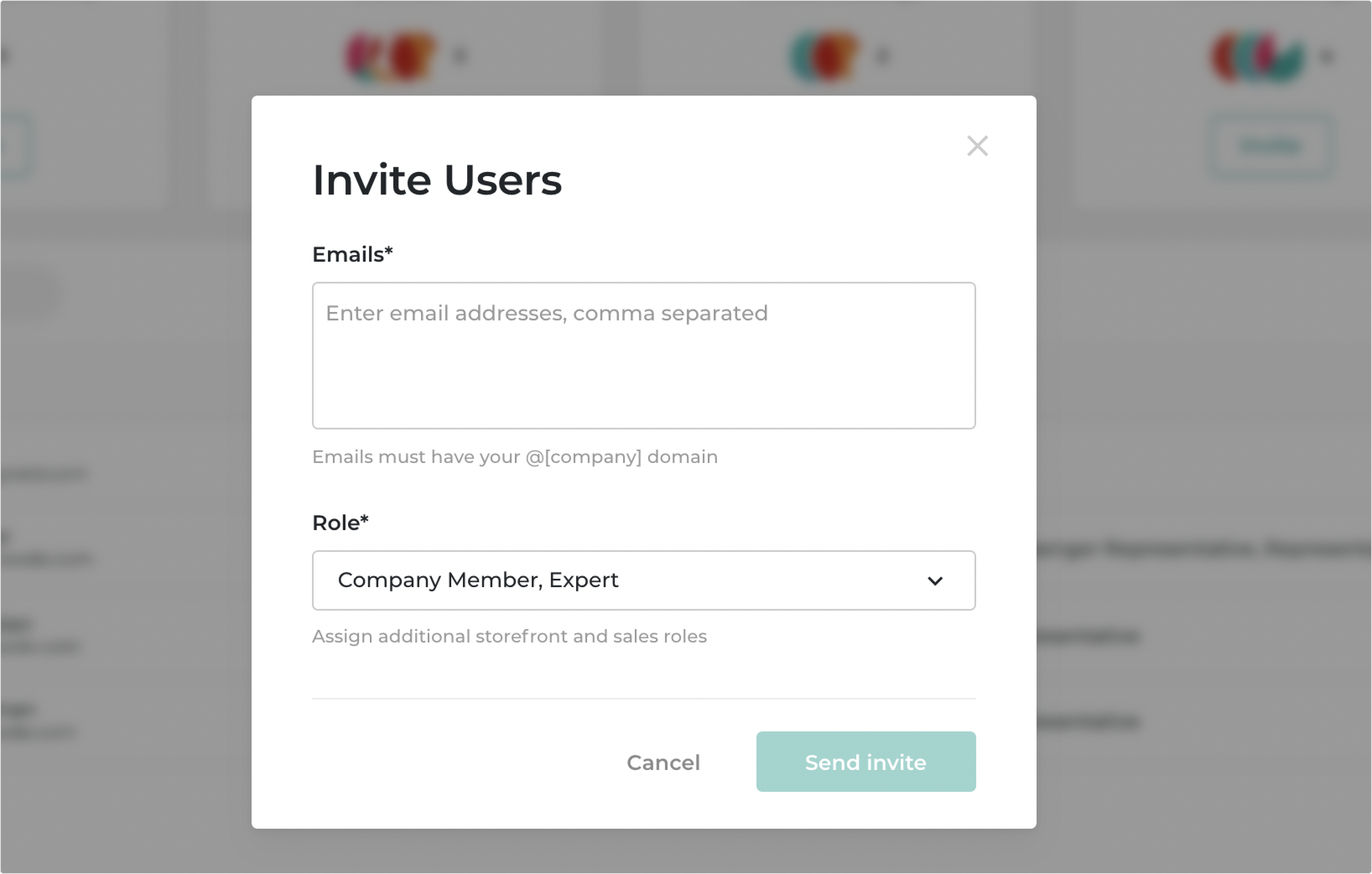 This will trigger a pop-up module to open. Enter the new member's email address into the first field and confirm your Role selection or click into the drop-down menu to add more Roles.
Click "Send invite" when you're done.
Resend an Invite
After inviting a user, you will see their information appear at the top of the Users dashboard as a Pending User until they accept their invite.
To resend an invitation and reminder your teammate to sign up, click the 3 dot menu to the left of their name and select "Resend Invitation". This will trigger another email.