Table of Contents
How to create your first Assignment
Other Functions on your Assignments Dashboard
Related Articles
Automated Routing on Knowde: Groups
Automated Routing on Knowde: Conditions
Automated Routing on Knowde: Default Inboxes
What is an Assignment?
With an enriched storefront on Knowde, your company will be generating Leads and Customer Requests in no time. In order to help you manage the high volume of requests, Knowde provides an automated routing system that will direct notifications to the correct salespeople.
Navigate to your Account Manager and select Company --> Assignments. On the Assignments page, you can create an Assignment based on a series of attributes so that specific types of Customer Requests are assigned to specific salespeople.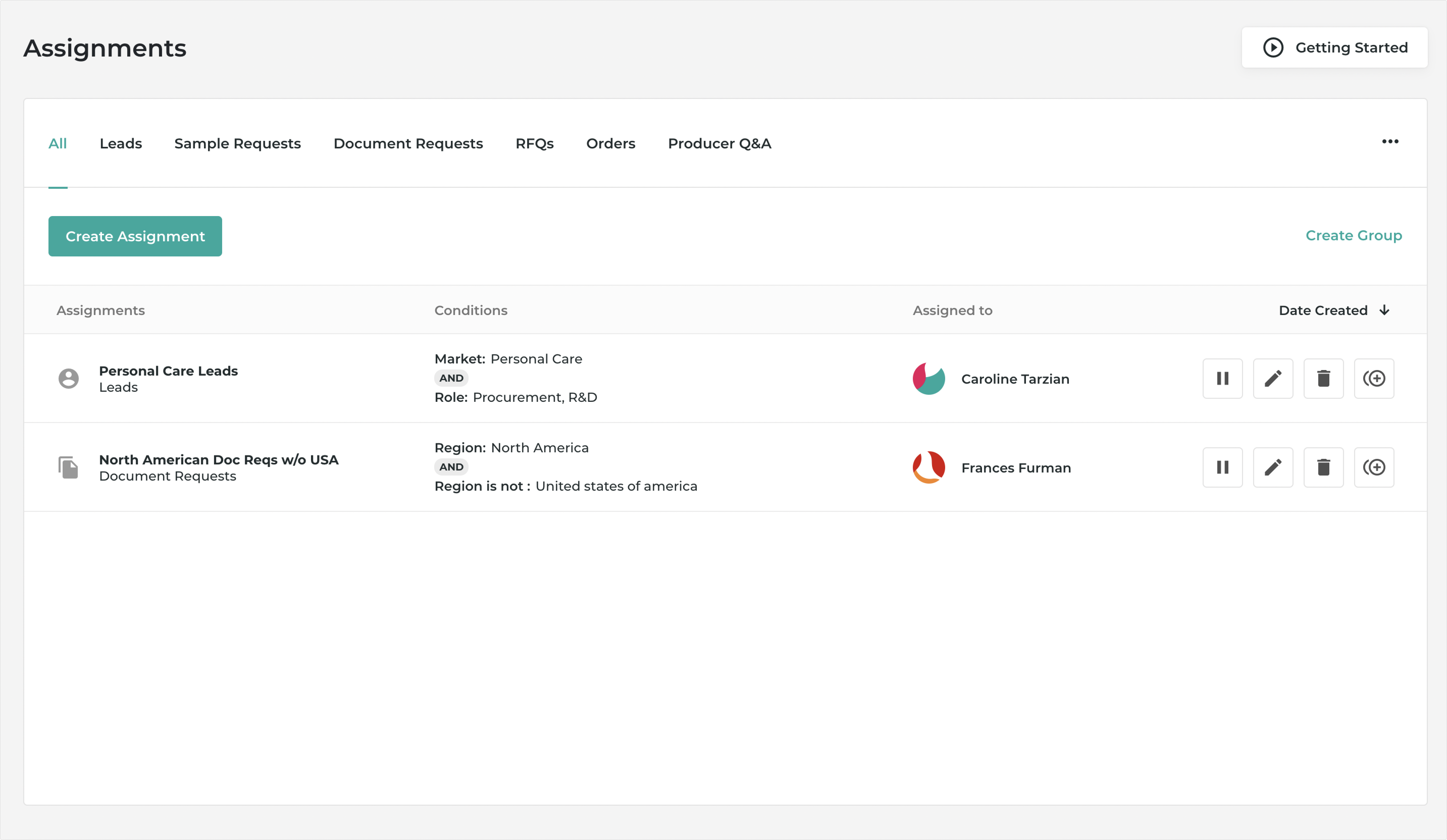 Imagine that you want to route Document Requests originating in North America to your North American sales team. However, assume you have a team specifically dedicated to Requests coming from the US. In Assignments, you can accommodate this customization.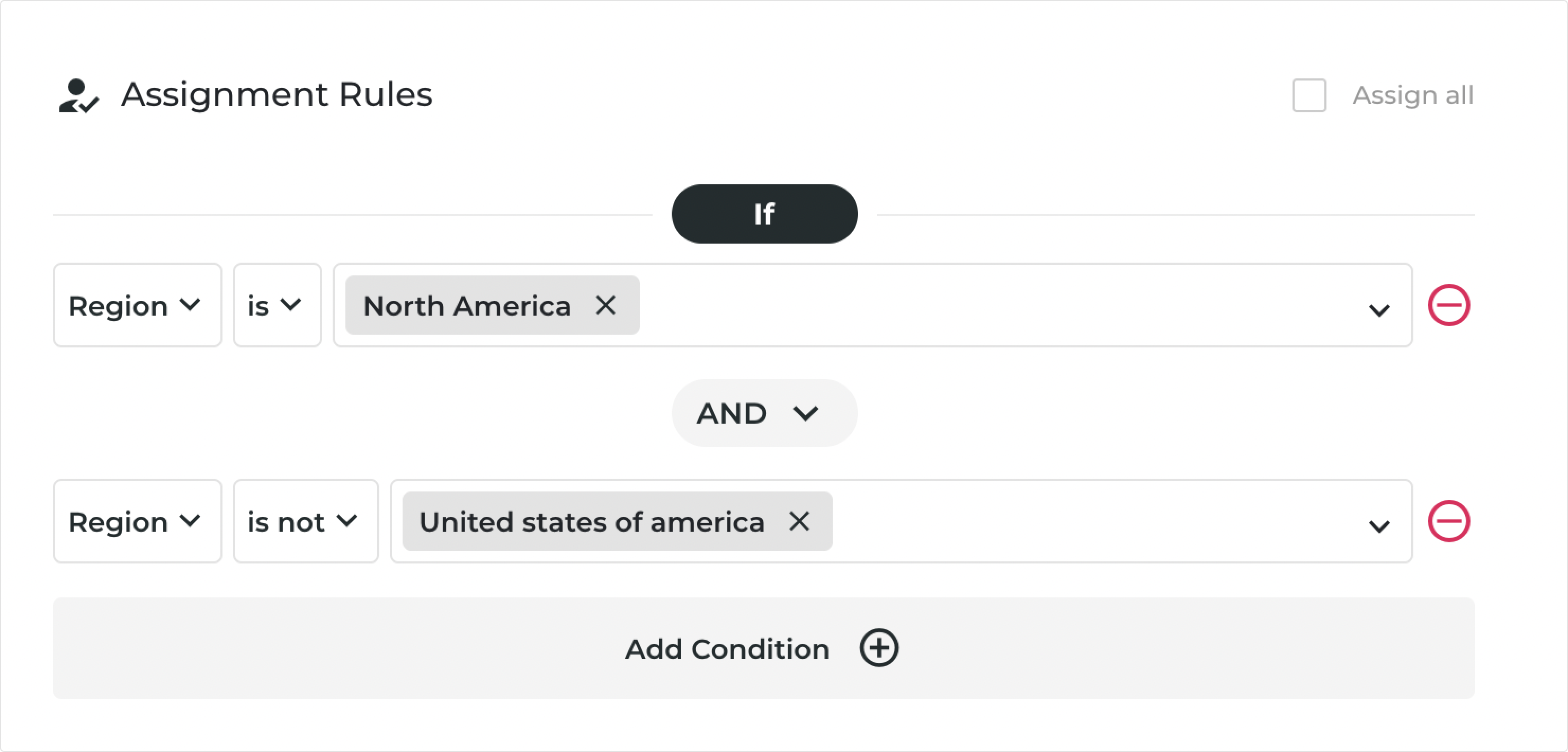 How to create your first Assignment
Assignment Name & Type
Click "Create" on your Assignments dashboard.
You'll notice a section for Assignment Name and Assignment Type. The Assignment Name is used to identify this Assignment from your dashboard, whereas the Type specifies which kind of Customer Request (or Lead) you would like to route.
2. Add an Assignment Name and select your Assignment Type (the kind of request or lead you want to create an automated routing system for).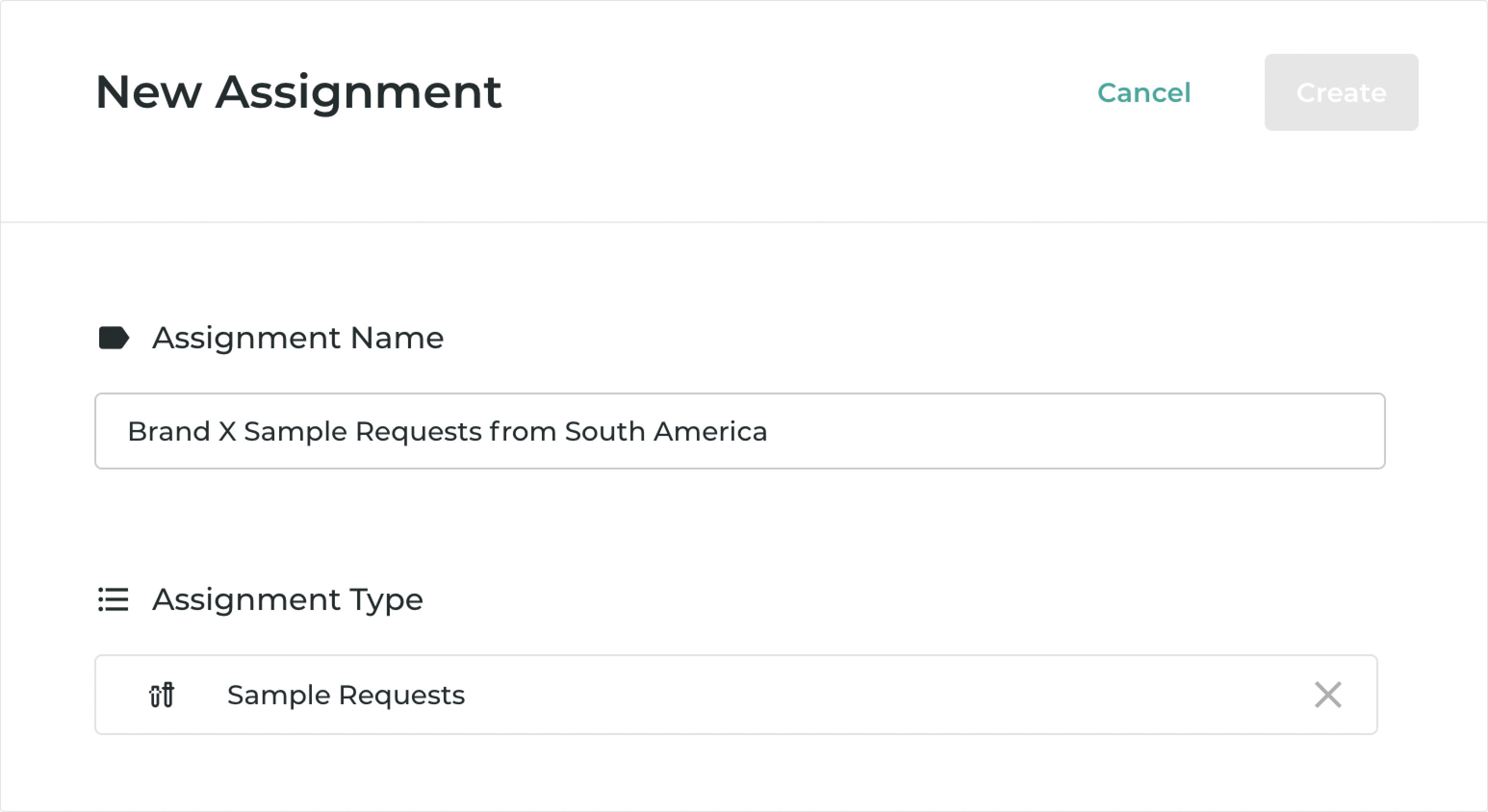 Assignment Attributes
In the Assignment Rules section, you can select attributes for your Assignment. For example, you could send all your Document Requests submitted by users in North America to Salesperson A. You could send all Leads from users who are both shopping in the Personal Care market and who have an R&D role to Salesperson B.
3. Click on the "Select Attribute" drop-down. You can now choose an Attribute of your Buyer or of your Products to determine how leads are routed. These Attributes include the Buyer's location, the Buyer's Role at their Company, and many more.
4. To add a Condition, after selecting an item from the drop-down menu, click the "Add Condition" button and select another Attribute. You can specify IS or IS NOT for your Attribute -- meaning, for example, you can route notifications if the Buyer IS in South America or if the Buyer IS NOT in South America depending on which option you select.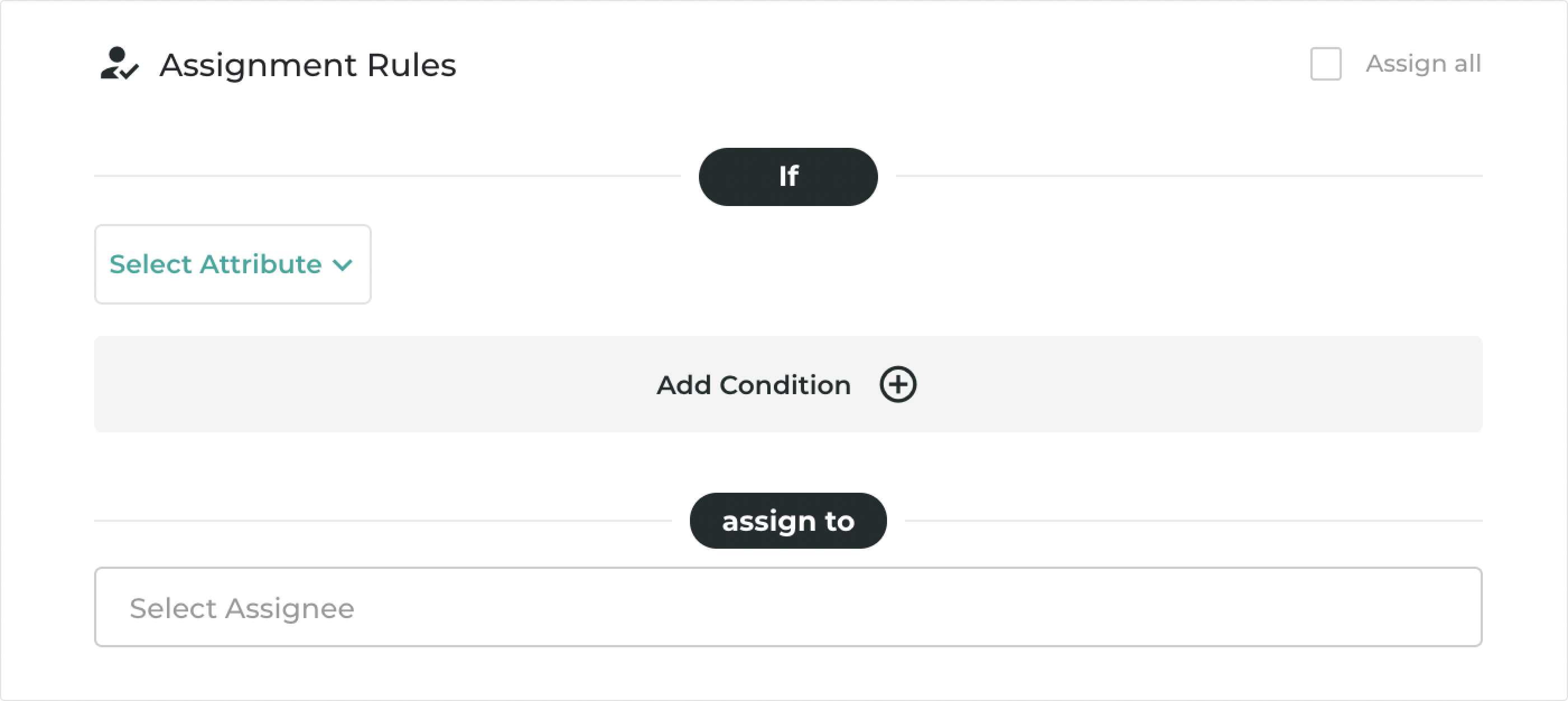 We'll set ours up to send all Document Requests where the Buyer IS located in South America, the Buyer IS in Procurement or R&D, and the Brand associated with their Document Request IS NOT Food Ingredients.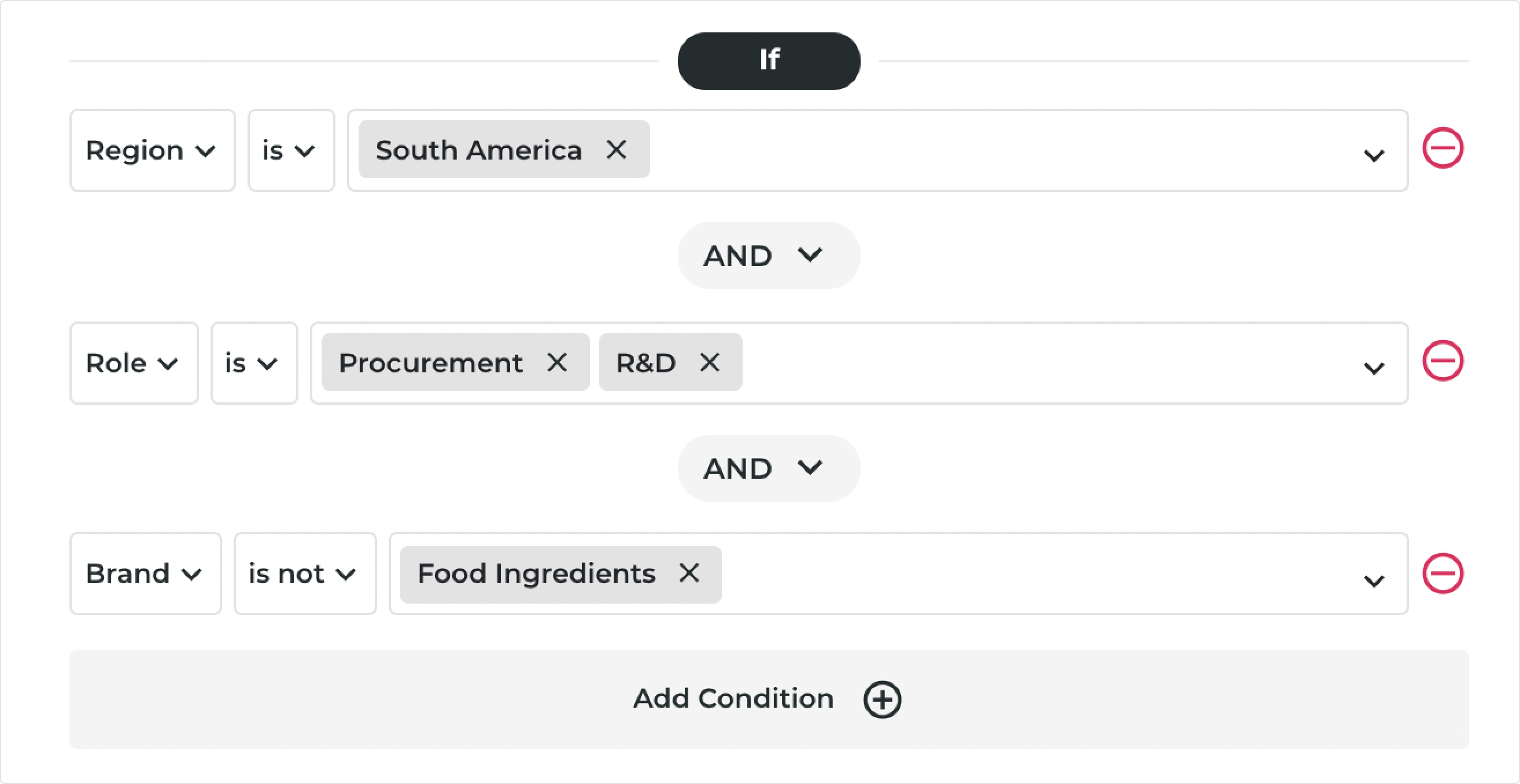 This means a Document Request has to fit all these criteria for the Request notification to be triggered.
Learn more about using Conditions here.
Assignee
Now, it's time to pick your assignee. This is the salesperson or representative who will receive notifications that fit the above conditions.
Simply click the "Select Assignee" box and either select a user from your Storefront in the drop-down menu or search for a user. Only users currently configured in your Storefront will be selectable here.

You can also select someone to CC on all notifications triggered from this Assignment by entering their email in the Notifications field.
Summary
Once these fields are configured, you will see an Assignment Summary populate where you can read about the details of your Assignment. Double check these look correct and you're good to go!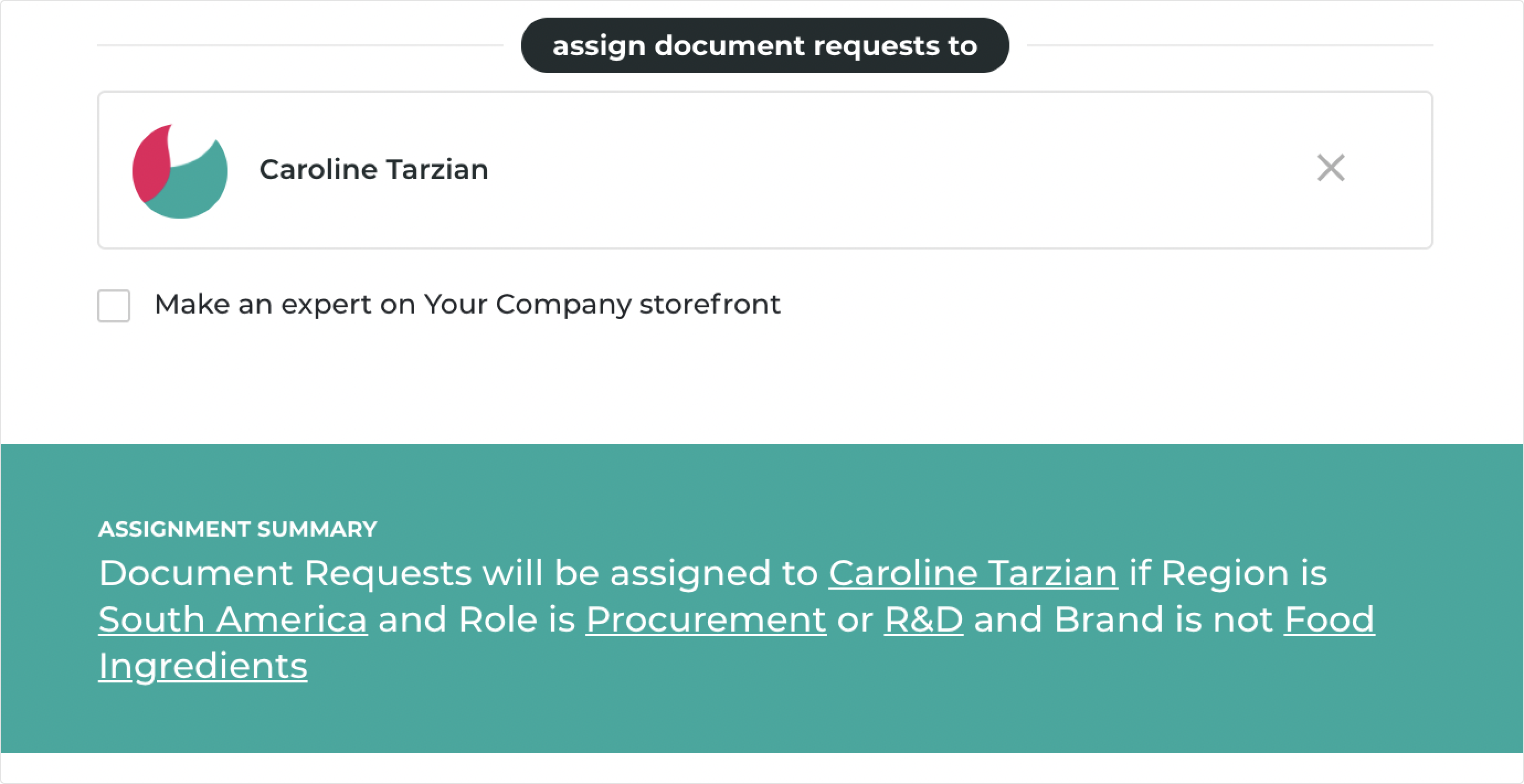 Learn about the "Assign All" checkbox and the "Assign as Expert" checkbox below.
Using the "Assign All" button
Knowde created the Assign All button to provide solutions for small to medium sized businesses. Not all chemical producers have hundreds of members on their Sales team, enabling endless customization of Customer Request Routing.
Use the Assign All button to assign every Customer Request of a specific type to one employee. For example, select "Document Request" under Assignment Type and select Assign All. This will send a notification for every Document Request to a specific user.

Assign as Expert from the Assignments dashboard
While creating an Assignment, check the "Make an expert on Your Company storefront" box. This will automatically make your assignee an expert on your storefront, allowing them to answer customer questions in real time.
Learn about how to use Experts here.
Other functions on your Assignments Dashboard
On your Assignments page, Requests types are broken out into different tabs. You can view all your Assignments from the first page or you can click into a tab to view Assignments for a specific Request type.
You can take action on each Assignment from these pages by pausing, editing, duplicating, or deleting Assignments.

For example, if you have an employee going on vacation for a couple of weeks and would like to pause their notifications, you can click the pause icon to the left of their Assignment. Pick a date and time to un-pause their Assignment (eg. first day back at work), and you're done!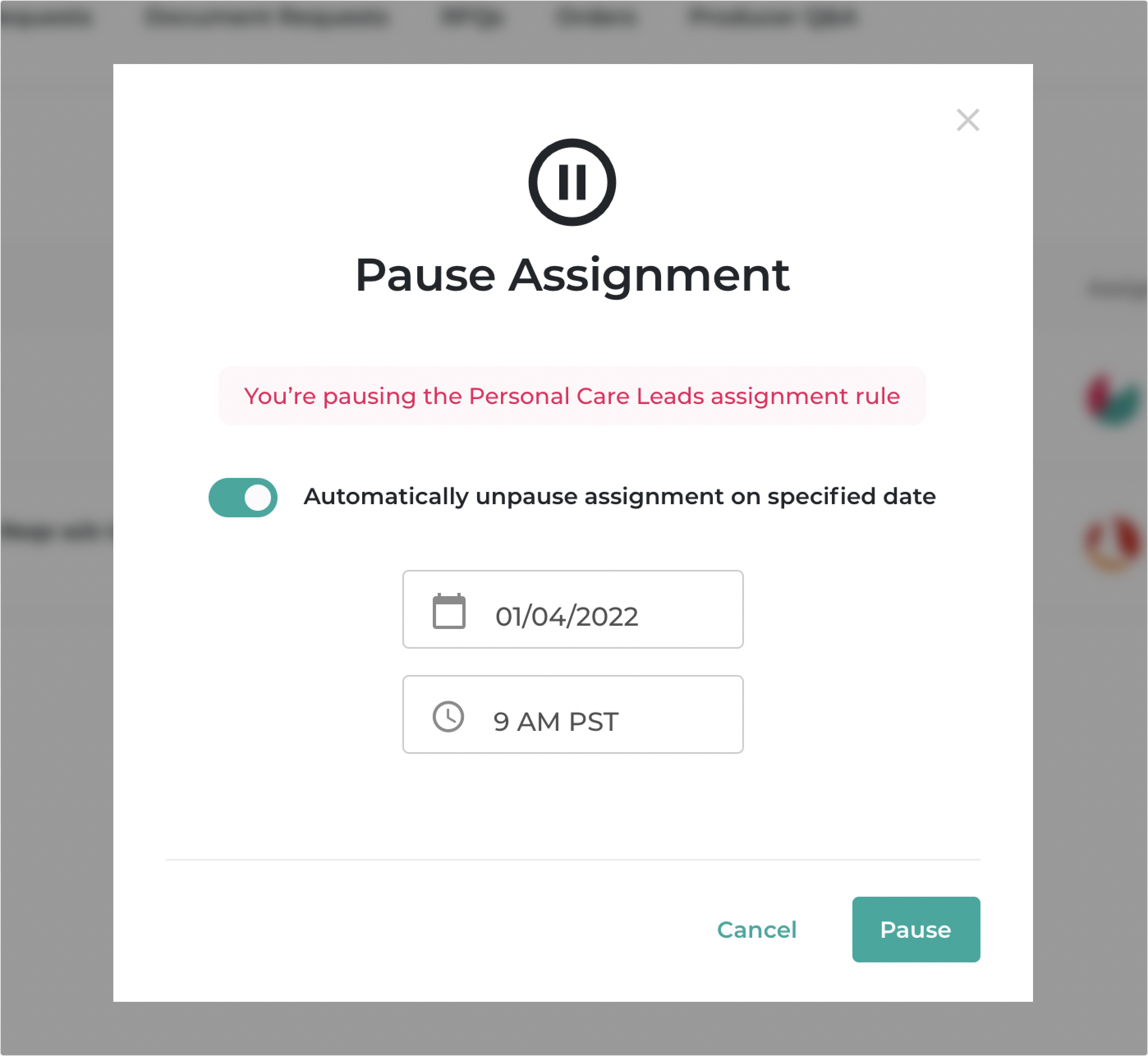 Or, say you need to create a similar Assignment to an existing one. Instead of reentering all the Attributes and specifics, click the Duplicate icon and then make any necessary changes (first on the right).