This article gives an overview of what customer requests are. In this article, we'll review the workflow of fulfilling customers' requests for documents.
All requests for documents made by customers on your storefront can be found in the "Document Requests" page, under the Customer Requests tab.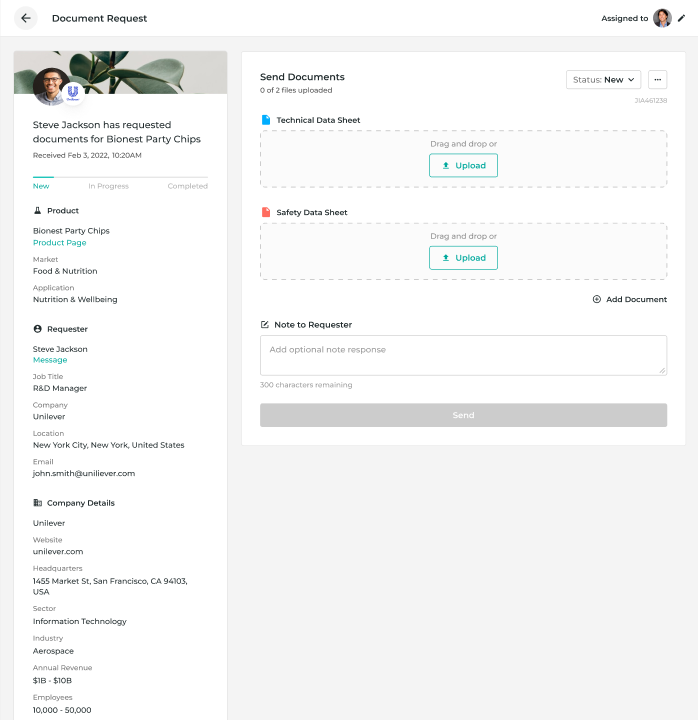 The view above is the Document Requests detail page that you see when you click into any of the document requests. This detail page is where you can fulfill document requests for your customers.
Here are the 5 main features to be aware of: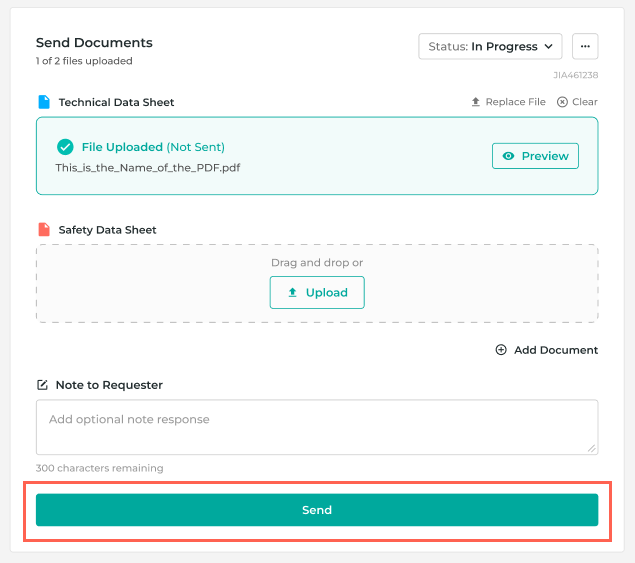 "Send" button: After uploading the requested documents, you will now be able to confirm the upload with a "Send" button that will then deliver those document uploads to your customer and notify them of the request update. The "Send" button will only be enabled if you upload at least one of the requested documents. In order to save any changes and direct the updates (e.g. document uploads or note to requester) for your customer, you must click "Send"!





Note to Requester: You now have the ability to send a note to the customer who has requested for your documents. Add up to 300 characters of message that you would like to tell the customer. Again, in order to save this update, you must click "Send."





Edit: After you send the requested documents to the customer, you now have the option to Edit that request! If you would like to replace the document you uploaded, add another type of document to the request, or change/add a note for the customer, you can now do so by clicking the "Edit" button. Make sure you hit the "Save" button to save and confirm any updates you make. You must click Save for the changes to go through to the requester. Once you Edit and Save, the customer will be notified of updates to the request.





Add document: If you would like to add any other type of document that was not specifically requested for, you can now do so with the "Add Document" button. There are 4 document types: TDS, SDS, Brochure, and Other. For example, if a customer requested only for a TDS, but you would also like to upload a Brochure, click the "Add Document" button to select the Brochure type so that you can upload a file for that and share it with the customer.





Status: As soon as you start working on the request (e.g. upload a document), the request's status will automatically change to "In Progress" so that you no longer have to manually update the request status! And once you hit the "Send" button to confirm any updates to the request, the request will then automatically change to "Completed."