Table of Contents
Recent Activity in My Dashboard
How to Use My Dashboard
First, who has access to the Supplier Dashboard? In order to view this page, you must be a Supplier with a Storefront on Knowde and have any of the following roles: Company Admin, Representative, Messenger Representative, or Contributor.
Note that though all of these roles are able to see some information on My Dashboard, not all roles can take action on this information or view the entirety of it. We'll walk you through which roles are able to access which components in the sections below.
Learn more about roles and how to add them on Knowde here.
Accessing My Dashboard
There are several ways you can access My Dashboard.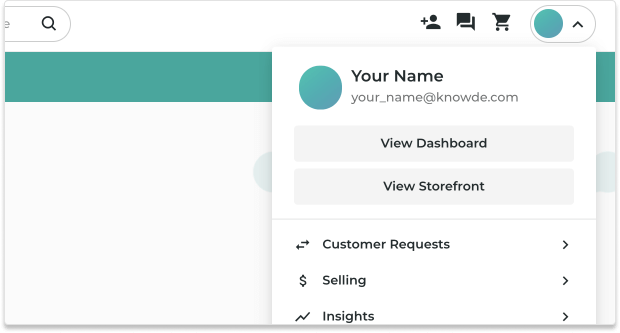 When you login from Knowde's Homepage as a Supplier, you'll be directed to My Dashboard.
Or, from any page on Knowde, click the Account Manager in the upper right hand corner and click "View Dashboard".
Finally, you can click this link directly if you're logged in.
What is My Dashboard?
The My Dashboard feature on Knowde provides a quick look into all your activity on Knowde. It shows you how complete your Storefront and Profile are, what unread messages or leads you need to respond to, and gives you a glimpse into how your sales pipeline is doing. My Dashboard is your personalized command center on Knowde.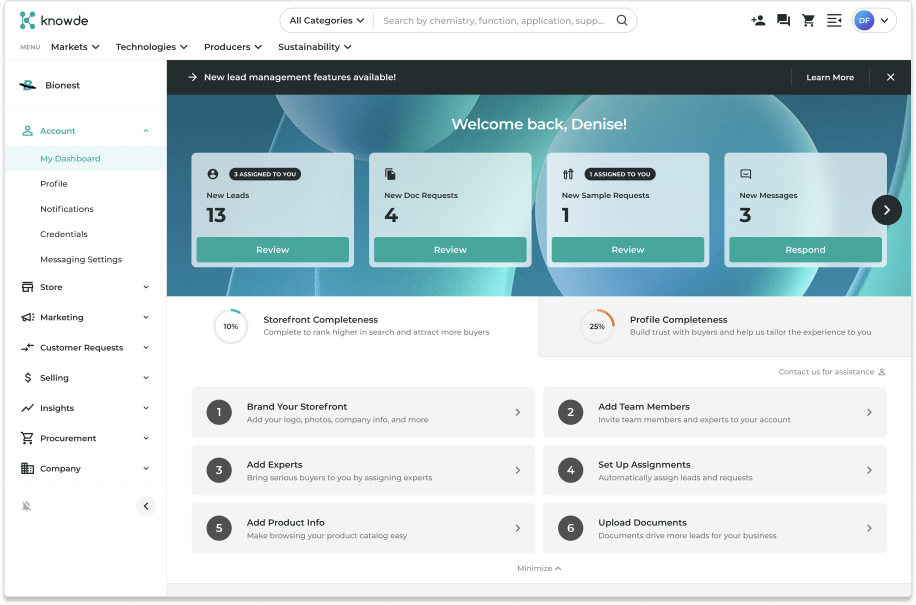 There are several components of interest in My Dashboard: the Announcement Banner, the Quick Tasks menu, the Completeness wizard, a Recent Activity section, a Response Time scoreboard, your Sales Pipeline, and an Analytics section.
Announcement Banner
The Announcement Banner is the black banner at the very top of My Dashboard which features the latest Knowde news, industry news, or new feature launch announcements. Once you've checked out the linked news page/blog/article, close the banner to hide it until the next new announcement. Keep an eye out for the Announcement Banner to stay up to date on exciting news and important information!
Roles with access: All roles.
Quick Tasks Menu
The Quick Tasks Menu is the section with a colorful green-blue background. It displays daily tasks that require your attention or completion. You will only be shown information here that requires you to take action–for example, you may see new Leads, unread Messages, or unattended Sample Requests.
The number above the Document Requests, Sample Requests, or RFQ displays are representative of the total amount of requests needing attention across your company. At the top of each display, you'll see black text which describes how many of each lead or request have been specifically assigned to you. Clicking "Review" will direct you to your assigned leads or requests.
However, the number above the Messages display refers only to the number of messages that require a response from you specifically. Click on the "Respond" button to tend to conversations that need your response.
Once you click Review or Respond, the Request/Message count will reset to 0 and you'll no longer see these notifications in the Quick Actions Menu!
Roles with access: Company Admin, Representative, Messenger Representative, and Contributor (Contributors cannot see New Leads, however).
Completeness Wizard
The Completeness Wizard is comprised of two sections: your Storefront Completeness indicator and your Profile Completeness indicator. This section is located right below the Quick Tasks menu and you can easily flip between the Storefront Completeness and Profile Completeness tabs.
Your Storefront Completeness indicator helps you track your progress through the Onboarding process. It'll let you know how many tasks you have left to complete before your Storefront is ready to start generating leads. Click on "Contact us for assistance" at the top right corner of the section if you would like to reach out to Customer Success for help in completing your storefront. Learn more here.
Your Profile Completeness indicator also shows you the steps needed to complete your profile. Having a completed profile will help build trust with your customers and allow our team to better tailor your experience on Knowde to you. Similarly to Storefront Completeness, once your profile is 100% completed, this tab will disappear from your view.
Roles with access to the Storefront Completeness Indicator: Company Admin, Contributor (only has access to half of the tasks).
Roles with access to the Profile Completeness Indicator: All roles. Experts will see additional fields in their profile.
Recent Activity Section
Your most recent leads are displayed below the Completeness wizard. This section will show you the most recent 20 leads that require your review and action, along with key details about the lead generator. You'll quickly see their name, role, company, lead score, and more information to help you take action.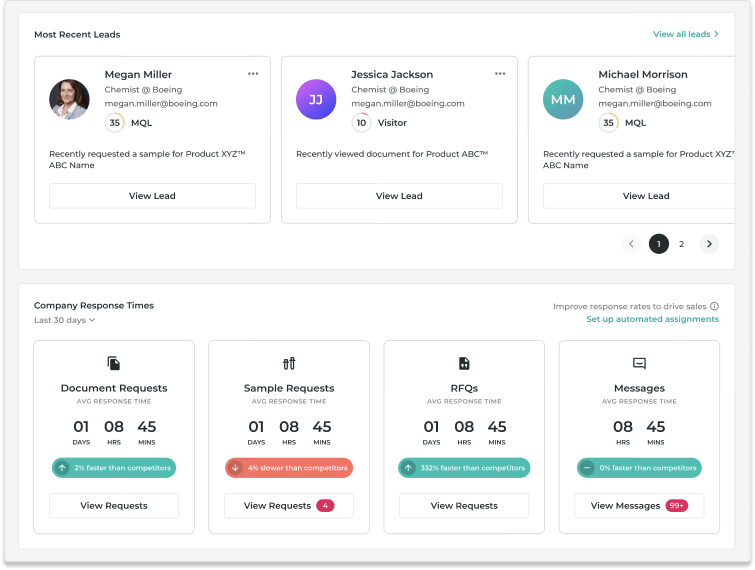 Within this section, you can choose to take 5 different actions on each lead:
"View Lead" to delve further into a lead's information and behavior.
"Assign" to notify someone else in your company of a lead waiting for them (located in 3 dot menu).
"Hide" to dismiss a lead from your view (located in 3 dot menu). This lead will still be available on your Leads Page.
"Archive" to dismiss a lead from your view and hide it under the "Archived" filter in the Leads Page (located in 3 dot menu).
"View all leads" to go directly to your Leads Page.
Roles with access: Company Admin, Representative, Messenger Representative.
Response Time Scoreboard
In this section, we calculate the average response time within your company for each type of customer request.
From the scoreboard, you can either choose to view requests and messages, or you can set up Automated Lead & Request Routing. Learn more about Automated Routing here.
Roles with access: Company Admin, Representative, Messenger Representative, Contributor.
Sales Pipeline
Your Sales Pipeline displays and filters all of your company's leads by their current lead status. Each stage of the funnel indicates how close a prospect is to becoming a purchasing customer on your Storefront. The Sales Pipeline shows you, from a high level, how successfully you're converting MQLs to Customers.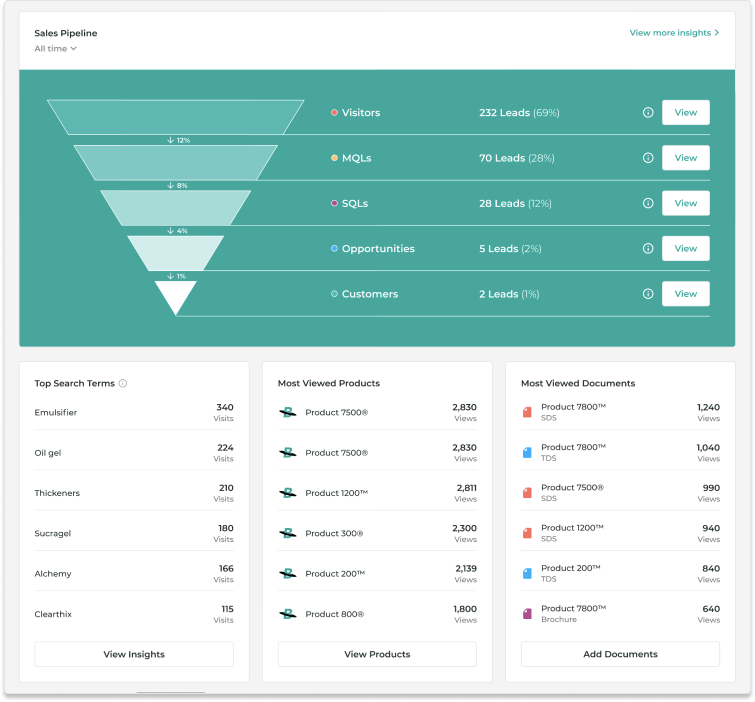 You can filter both your Response Time Scoreboard and Sales Pipeline by date to surface data from all time, from the past 90 days, past 30 days, or the past week. This gives you better insight into whether you're trending upwards or downwards so you can reassess your strategy or keep moving forward.
From the Sales Pipeline module, you can click "View" to see all leads with a specific status, or you can click "View more insights" to visit more detailed Analytics pages. These pages offer a deep-dive into data and tools that will help you get to know your customers better and faster, allowing your Storefront or white label site to develop more leads and track each customer's entire purchasing journey. Please note these pages are part of Knowde's Premium Analytics offering, only available to Suppliers with a Premium membership on Knowde. Standard Storefronts still have access to the Executive Summary analytics page, providing high level insights about your business performance. Find out more about Premium Analytics here.
Roles with access: Company Admin, Representative, Messenger Representative, Contributor.
We have provided a brief overview of Lead Statuses below, but you can also learn more here.
MQLs (Marketing Qualified Leads): these are users that have moderate to significant interest in your Storefront. You should consider engaging these leads further within Knowde's Marketing Platform or by sending a message with Knowde Messenger!
SQLs (Sales Qualified Leads): these are users who have significant interest in your Storefront and are considered ready for salespeople to start directly communicating with them. Use the many contact options provided in your Lead detail page to engage them!
Opportunities: these are users who have been qualified by your sales team and are approaching a team. Consider scheduling a demo or providing a Quote or Sample.
Customers: these are users who have submitted orders within your Storefront on Knowde or white label site. Reengage them by starting a conversation about their next reorder or helping them find other products of interest!
Knerd Tip: Check out our blog to learn more on how to nurture your leads through the sales funnel to help drive sales for your company.
My Dashboard Analytics
The Analytics section offers three types of data: Top Search Terms, Most Viewed Products, and Most Viewed Documents. These data points give you an idea of what's leading customers to your Storefront.
Top Search Terms lists the most popular terms that are driving leads and customers to your Storefront. Each row in this card is clickable and will show you what customers see when they search that term on Knowde. Add full product information to make sure your products are discoverable on these pages!
Most Viewed Products allows you to see which products on your Storefront or white label site are the most popular based on the number of views they receive. Click on each row in this card to see that Product's page.
Most Viewed Documents allows you to see which documents on your Storefront or white label site are the most popular based on the number of views they receive. If you click on the Add Documents button, you'll be taken to a form in our Help Center designed for adding and updating your documents on Knowde.
Roles with access: Company Admin, Representative, Messenger Representative, Contributor.
Questions? Reach out to our team here.